Behind the Wheel Training (BTW)

A Proactive Approach To Road Safety:

Irrespective of whether an individual, company or organisation undertakes a road safety or fleet driver training programme, the results reach beyond those directly involved.
Programmes result in drivers having a greater understanding of their responsibility and how this may affect their company or organisation. This is demonstrated through enhanced driving techniques, improved behaviour and a more responsible attitude.
Such an improved approach to road safety & driving by the individual will lead to an enhanced public image of a company or organisation by the public, saving in running costs and safeguarding individuals and company or organisations assets.
Above all the safety of the individual driver, passengers and the general public is improved.

In addition to the individual benefits of enhanced safety, organisations will see a reduction in their overall fleet fuel costs, vehicle incident rates, down time, insurance premiums and general maintenance costs.

Benefits of Fleet Driver Training rogrammes are often far reaching beyond the company, as information is disseminated through family and friends.

Fleet Driver Training:

Aimed at reducing the personal and financial costs to a company or organisation of road traffic incidents involving staff and the public.

Some 65% of road traffic crashes/accidents involve a vehicle driven on company business.

Companies are not immune from the real costs of crashes/accidents involving staff whilst driving in their own time for personal and private business. Added to the personal suffering of employees and families, organisations can suffer tremendous financial loss through down time, lost production etc when a partner or family member is involved in a road traffic incident.

The benefits of such programmes extend beyond the company or organisation as information is disseminated to family, friends and the general public.

Courses can combine both theory and practical training. The theory aspect looks at the risks to individuals and offers coping strategies tailored to the organisation. The practical in-car assessments and training raise awareness of the individual driver to their responsibilities.

Behind the Wheel Training Programmes

(click + to view)

UK Familiarisation Training

MiDAS Minibus Awareness Training

​Standard MiDAS

Accessible MiDAS

PATS

Emegency Evacuation

Minibus Driver Training

4 x 4 Off Road

Tanker Training

Trailer Training

Speed Awareness

High Risk Driver (points accumualtion)

Drink & Drug Awareness

Manual Handling

Train the Trainer Training

CPC Courses

Skid Pan Training

The above is a selection of the type of programmes that we provide, if you have specific requirments please contact our office.
A Holistic Approach to Fleet Risk Management
UK Global Road Safety believe that Road Safety is Everyone's Business and not just those who have responsibility for Education, Publicity & Enforcement or those unfortunately caught up in the consequences of driving and conflict on the road.
We aim to design & deliver On-Road Driver Training & Safety Education programmes to the highest achievable standards whilst exceeding our client's expectations.
Client Driven Approach To Road Safety:
As one of the UK's specialists in On-road Driver Training & On-line Driver Training we adopt a client-orientated approach in the design & delivery of road safety education programmes. Working closely with companies, organisations and individuals we endeavour to develop individually tailored Road Safety, Fleet Driver Training & Company Driver Training Programmes meeting the needs of all involved.
UK Global Road Safety recognises that one single line of approach to managing occupational road risk may not be the answer for every organisation.
UK Global Road Safety Outline of Holisitc Approach

(click + to view)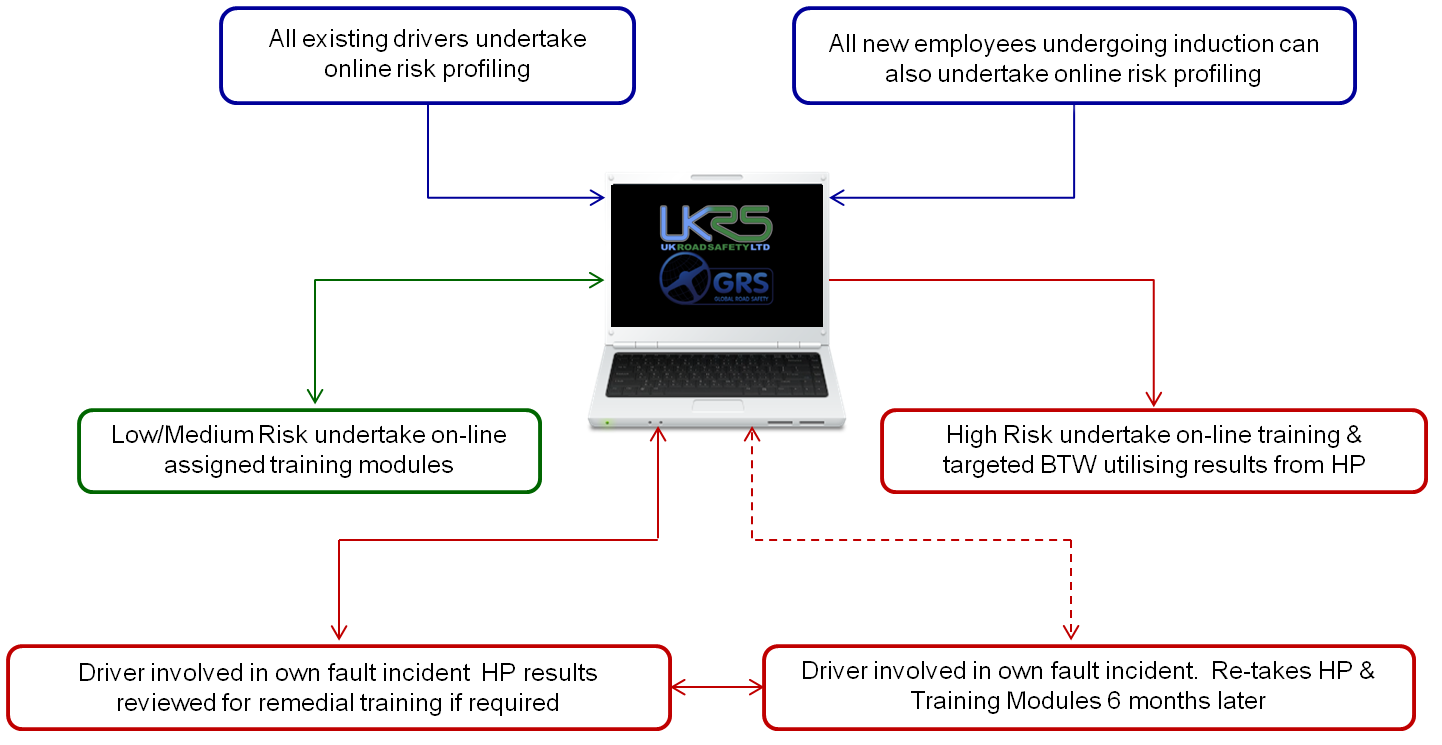 T

his is a sample of how a holistic programme can be managed.
Implementing a blanket Behind the Wheel (BTW) progamme for all drivers can be logistically troublesome, have a detrimental impact on day-to-day management of a business and, when all hidden costs are taken into account, a very expensive method of approach.
On the other hand you may feel a totally online programme does not allow you to provide the extra assistance and support that you may wish to offer your high-risk drivers.
For this reason UK Global Road Safety suggest you consider our holistic approach to managing your occupational road risk. With this programme all your drivers undergo online risk assessment (Hazard Perception Evaluation) followed by undertaking the bespoke and individually auto assigned training modules, designed to mitigate the identified risks for each individual driver.
This is then backed up with a BTW programme for those who have been identified as high-risk, identified via the hazard perception evaluation programme.
Your low and medium risk drivers complete only the online auto-assigned training module.
This holistic approach allows an organisation to fulfill their legal obligations to their drivers, support those most in need, implement a programme with minimal dissruption to the business and target their training budget to areas of greatest need.
To find out more about our holistic approach please contact our office and speak to Kevin Packer on Tel: +44 (0) 1452 347332 or Jane Sneddon on 0844 906255